---
Common Pests:
For Immediate Service Call 866-949-6097
See even more pests that we control.
What to Expect From Your Orkin Man
Since 1901, we've taken pest control seriously, and we have millions of satisfied customers to prove it. We use the latest science and technology to test new and innovative products, so we can help protect your home with an effective plan suited to your specific needs.
Each home is unique.
When you have a pest problem or want to protect your home from future invaders, we apply our science-based approach to help identify the root of your problem and implement a solution made expressly for your home. During every visit, The Orkin Man will use our integrated A.I.M® process to assess, implement, and monitor your home's pest population.
Customized Solutions. Watch How We Do It:
Call 866-949-6097
We A.I.M. to Get the Job Done All Year Round.
A.I.M: On each visit we do three things…
Assess
Inspection
If you have seen evidence of a pest or want help protecting your home against unwanted guests, your Orkin Man will come and inspect your home. On the first visit, your Orkin Man will conduct a thorough inspection of your property, and if necessary, bring in state-of-the-art equipment, such as moisture meters, telescoping cameras, and UV lights, to help identify high risk areas such as entry points, leaks, and cracks. You can expect your first inspection to takes about 45 minutes to an hour, for regular visits 20 to 30 minutes. At the end of his inspection, he'll complete an Orkin Home Inspection Report that outlines your problems and recommends a plan tailored to your home.

Your Orkin Man will conduct a thorough inspection of your property, and if necessary, bring in state-of-the-art equipment.

Implement
Getting the Job Done
Your Orkin Man will take care of any identified problems and install pest-monitoring tools in critical areas to help keep an eye out for pests. He uses the best tools and scientific solutions available to get to the root of the cause so he can thoroughly and efficiently treat your pest problem. And when he's completed your service, he will fill out a Pest Control Service Ticket that outlines what he did and when he'll need to be back to keep you protected.

Your Orkin Man will take care of identified problems.

Monitor
A Year-Round Solution
Pests don't come just once a year, so why should we? Your Orkin Man will visit on a regular schedule year-round to monitor your home and pest activity. He will check for new pests while monitoring the status of previous treatments. And if he sees something new or suspicious, he will investigate. Your Orkin Man will continue to document your progress and problems to ensure the best maintenance approach for your home. Winter, spring, summer or fall, your Orkin Man will help make sure he heads off seasonal pests and ensure the long-term success of your service. We're not happy unless you're 100% satisfied.

He will check for new pests while monitoring the status of previous treatments.
Call 866-949-6097
We're serious about our tools:
Telescoping Inspection Mirror
Aerosol Application System
Ultraviolet and LED Flashlight
HEPA Filtered Insect Collector
The Orkin Guarantee
100% Satisfaction Guarantee
We're Not Satisfied Until You're Satisfied.
If pests return between The Orkin Man's scheduled visits, he'll come back at no extra charge. And if Orkin's unable to solve your pest problem, we'll refund your last service payment as long as you're a current Orkin customer.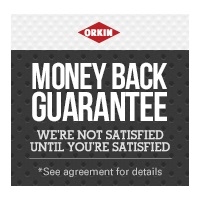 Looking for help with pests in Atlanta? Give us a call: 866-949-6097
With Orkin, pests don't stand a chance.
In addition to bugging you, pests pose serious risks to your health and property – all year long. Cockroaches, mosquitoes, rodents carry various diseases so it's important to keep them in their place. No matter what season it is, they will sneak into your home searching for food, water, and a comfortable habitat. Keeping them out of your home is not a one-time event – it's a year-round process. Our pest control technicians work to deliver solutions – rooted in science – that protect every home.
Lucky for You, We Know Our Pests.
With award-winning training an